Interventional Radiology - Uterine Fibroid Embolization (UFE)
For information or to schedule a consultation, call 215 462-2100
Providing Interventional Radiology
services at:

American Access Care - Cherry Hill
207 South Kings Highway, Suite 2
Cherry Hill, NJ 08034
Phone: 856 616-8600

For inpatient care at the following hospitals,
call 610 275-8346.

Chestnut Hill Hospital
Fox Chase Cancer Center
Montgomery Hospital
Mercy Suburban Hospital
Pennsylvania Hospital




"The Intelligent Alternative to Hysterectomy."

One hour, one night, one week™

One hour - approximate procedure time.
One night stay in the hospital.
One week average recovery time.
And you are finished suffering from fibroids.



| | |
| --- | --- |
| Before UFE | 12 Months After |
The above is a MRI of the most desirable fibroid type for uterine fibroid embolization (UFE) treatment; a single prominent predominantly sub-mucosal fibroid which after embolization gently sloughs, layer by layer, until it is a fraction of its former size on the 12 month follow-up MRI evaluation.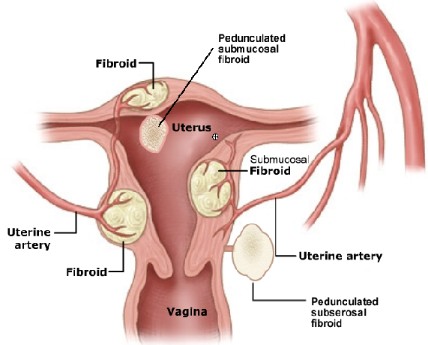 Is Uterine Fibroid Embolization Right for you?
All fibroids of the uterus are not the same. For this reason, we utilize MRI to best see the fibroids and other findings within the uterus. In the past ultrasound has been utilized; however, ultrasound evaluation does not provide accurate enough description of the location of the fibroids and possible additional findings.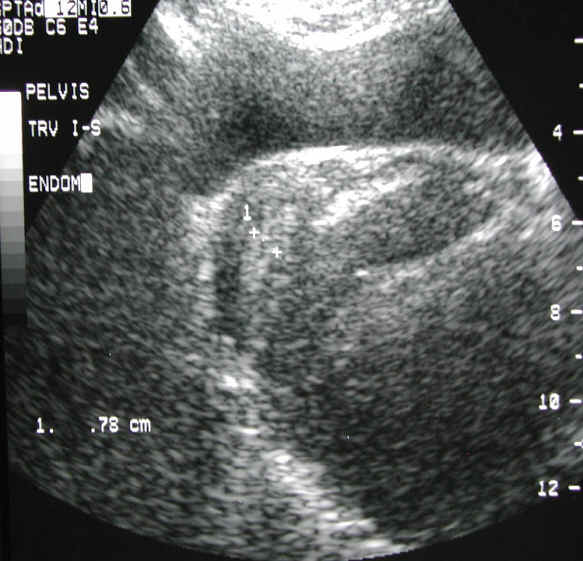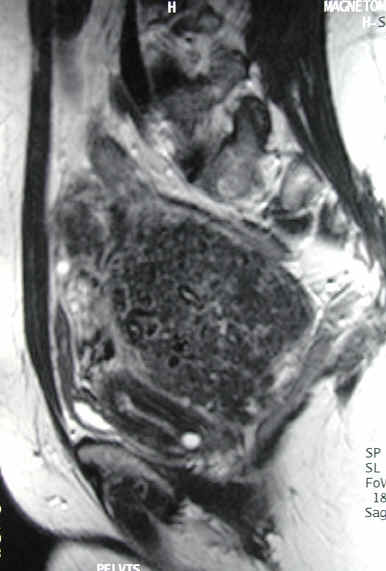 An Integrated Approach Involving some of the Best Gynecologists in the City.
We can work together with your Gynecologist.
There are many treatments for uterine fibroids. For many women uterine fibroid embolization may be the best treatment. However, there are times when alternative treatment is more appropriate. For example, the first case referred was a woman who had complained of symptoms and on ultrasound was found to have a prominent posterior fibroid. However, on MRI evaluation, the fibroid was shown to be peduncluated, or hanging on a stalk, behind the uterus.
This fibroid did not require embolization. The fibroid could have been embolized prior to laparoscopic removal, myomectomy, to further decrease the risk of blood loss. However, the patient was referred back to her Gynecologist who specializes in laparoscopic surgery and who was able to laparoscopically clip the fibroid stalk and remove the fibroid while preserving the uterus.
History of Uterine Fibroid Embolization (UFE)
The procedure Uterine Fibroid Embolization (UFE) was first developed as an additional treatment prior to hysterectomy. Blood loss has long been known to be a significant problem during hysterectomy. In order to attempt to alleviate significant blood loss a group of interventional radiologists working in conjunction with gynecologists in France began embolizing the uterine arteries of prospective hysterectomy patients prior to the hysterectomy. The arteries leading to the uterus were blocked with fine particles to decrease the blood supply to the uterus hence the initial name Uterine Artery Embolization or UAE.
Some of the patients who had symptomatic fibroids after having initial embolization refused to go on to hysterectomy stating that their symptoms were cured. Retrospective analysis illustrated that patients with fibroids were found to be relieved of their symptoms with this embolization procedure alone.
Research Documenting Efficacy, Safety and FDA Approval.
Extensive research in uterine fibroid embolization (UFE) has since been conducted over the last years throughout the United States and most prominently at Georgetown University by Dr. James Spies, one of the world authorities on the subject of uterine fibroid embolization. Dr. Spies conducted initial studies on various important aspects of UFE. X-ray guidance is used to locate the arteries supplying the fibroids, and Dr. Spies' studies showed the radiation dose during the procedure was extremely low. Outcomes on uterine fibroid and embolization illustrated 90% success rates, initial evaluation of Embosphere, Microspheres and subsequent FDA approval of Embospheres for Fibroid embolization and studies on menopause illustrating that only women in their late forties and above who underwent embolization had any increased risk of being advanced into the menopausal/peri-menopausal symptoms. Of course many patients who are suffering from symptomatic fibroids at that age are not reluctant to go into menopause and would welcome this change if it occurred in order to stop the severe bleeding and pain/pressure symptoms.
Overview of Uterine Fibroid Embolization
Procedure Performed by the Physicians of Interventional Associates
A Group of Board Certified and Exceptionally Experienced Cardiovascular and Interventional Radiologists; Members of the Innovative Sub-specialty of Radiology that Invented Angioplasty as well as Uterine Fibroid Embolization
With the gathering of significant evidence illustrating that uterine fibroid embolization is a safe, effective treatment for symptomatic uterine fibroids; Interventional Radiologists have been offering the service throughout the nation. To date over 50,000 women worldwide have had UFE. The physicians of Interventional Associates have performed numerous successful fibroid embolizations, including one of the first successful fibroid embolizations prior to successful in-vitro fertilization (IVF) and successful pregnancy.
Before we can evaluate the patient to see if she is a candidate for uterine fibroid embolization, an MRI of the pelvis is obtained. We insist that if at all possible, the MRI be completed a closed magnet, not an open MRI. We have had misdiagnosis with the lower field strengths of the open MRI providing not quite as accurate information about fibroids and concomitant abnormalities including adenomyosis or adenomyomas resembling fibroids. For this reason, we insist that if at all possible, the MRI be conducted in a high field closed magnet of 1.5 Tesla or above both pre-and post gadolinium enhancement.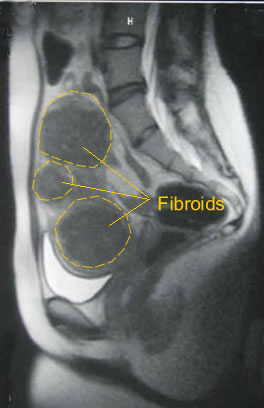 After the MRI is completed and all documentation from a patient's Gynecologist is obtained, a meeting between the patient and attending physician will be scheduled. At that meeting, we will review the MRI findings (we will need a copy of the MRI and copy of the report) and determine whether the fibroids and any concomitant findings will be amenable to, likely amenable to or unlikely amenable to uterine fibroid embolization.
At that time we will attempt to answer any questions about the procedure as well as provide information on pain control during and after the procedure which will be best discussed by any anesthesiologist who would be available to perform epidural anesthesia, if desired.
The Procedure Uterine Fibroid Embolization or UFE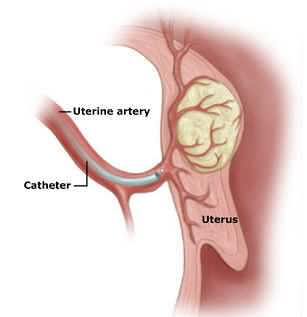 | | |
| --- | --- |
| Before UFE | After |
The procedure utilizes state of the art imaging with million+ dollar x-ray equipment to guide access to the arteries supplying the fibroids. Initial contrast injection demonstrates the blood supply to the fibroids documented on the MRI.
| | |
| --- | --- |
| Before UFE | After |
Then Embospheres are inserted into the blood supply to the fibroids immediately stopping the bleeding. Care is taken to preserve the small myometrial branches feeding the uterus. Post embolization angiogram illustrates no flow to the fibroids.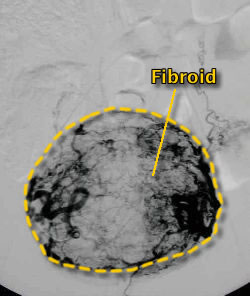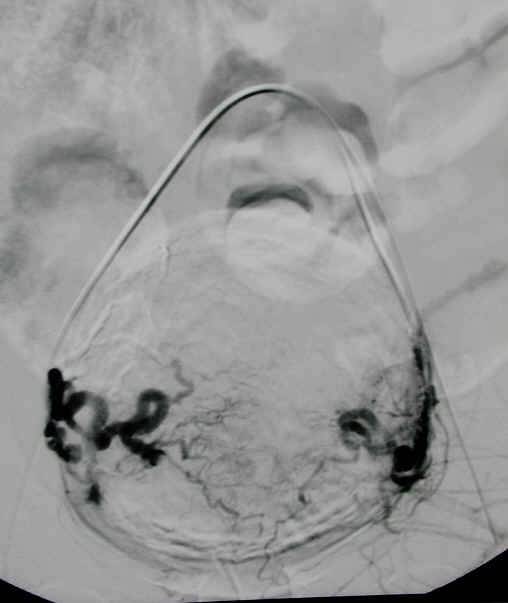 Three months after the procedure a follow-up MRI is done to confirm the fibroids have been devascularized and are shrinking with post contrast imaging showing no enhancement of the fibroids confirming a successful procedure. The fibroids will continue to shrink over the course of one year.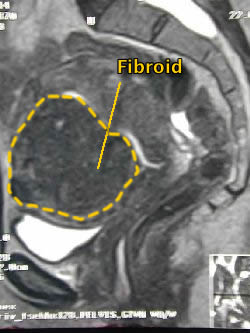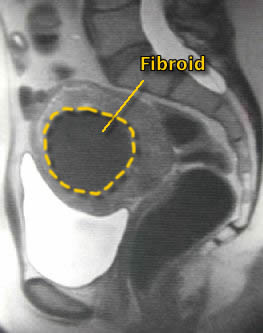 Lower Complication Rates than Hysterectomy
Although the procedure of uterine fibroid embolization has been shown to have fewer complications than a hysterectomy or a myomectomy, and lower costs as well, there are still risks to the procedure. We work to minimize the unlikely risks which include deep venous thrombosis, post procedural infection, damage to the arteries, as well as embolization of non-target systems.
After conducting many successful uterine fibroid embolizations our team is well-versed in trying to eliminate any of these risks. In order to decrease the risk of deep venous thrombosis during and after the procedure we utilize sequential compression devices on the legs to facilitate venous movement of blood and decrease the likelihood of venous stasis and formation of deep venous thrombus during and after the procedure. Decreasing or eliminating hormonal medications prior to the procedure further decreases the likely hood of clots forming within the veins in the immediate post procedure time period.
In order to decrease the risk of infection we administer pre-procedure antibiotics as well as scrub the groin access areas with antiseptic agents that have been proven to decrease the likelihood of infection. Sterile procedures are adhered to stringently.
Extreme caution is utilized in accessing the arteries as well as embolizing the targeted fibroids. Extensive experience in conducting this procedure and experience with careful arterial access, utilization of FDA approved particles, Embospheres, and extreme care and experience in placement of the particles will be utilized to minimize/eliminate, any chance of non-target embolization and maximize chances of a successful procedure.
Post Procedure Care
Post procedure, after the embolization has been completed, the catheters are removed and no closure devices are utilized. Closure devices such as suture closure devices or collagen plug seals have complication rates higher than that of holding direct pressure on the arterial sites for 15 to 20 minutes. We choose holding pressure, the safest, although more time consuming method. After the procedure, the patient is required to lay flat/sitting at 20-30 degrees with legs straight for six hours to minimize chances of bleeding or development of hematomas in the groin sites.
After completion of the procedure the patient is placed on an intravenous patient controlled anesthesia (PCA) pump unless epidural anesthesia is preferred. There are risks and benefits to each of these forms of anesthesia. With the PCA pump there may be some pain associated with the immediate Post procedure time period. The patient senses pain and she presses a button and a pump delivers the morphine needed for pain control. The patients who choose to epidural pain control the procedure is virtually pain-free. However, there are additional risks of the epidural placement itself, and this is best discussed by an anesthesiologist on staff prior to the procedure if epidural pain control is desired or will be considered by the patient.
The patient will be admitted to the Gynecologic wing of the hospital for overnight observation during which time nausea prevention and pain control medications will be administered by our team of experienced and careful nursing staff and health care providers.
Home the Next Morning
The patient will be transitioned to oral medications the morning after the procedure and if there are no difficulties, will be discharged with oral anti-inflammatory, anti- nausea, and pain control medications.
The patient will be given detailed post procedural instructions. Typically this post procedural recovery time is approximately seven days. During this time the patient will be instructed to take anti-inflammatory medications as well as pain control medications at home.
Typically women can return to work or regular activity in approximately seven days.
After the procedure the patient will be given instructions to check in by telephone in one day, one week, and one-month. Three months after treatment, a post procedural MRI will be utilized to assess success of embolization. A post procedure MRI will be obtained and physician evaluation will be sooner in the unlikely event that symptoms occur.
| | |
| --- | --- |
| Before UFE | 12 Months After |
90% Success Rate
The procedure is 90 percent successful. This means that 90 percent of the patients who are deemed to be candidates for the procedure will undergo the procedure successfully and will not need any further treatment for their fibroids.
The other 10%
10% of women may require further procedures. This may include treatment for unlikely complications including deep venous thrombus or infection which is treated in an expeditious manner. More likely the additional procedure needed is hysteroscopic evaluation (looking into the uterus with a scope performed by a qualified gynecologist) for sub-mucosal fibroids that are passed into the uterine cavity and require assistance in passing through the opening to the vagina. A small percentage may require hysterectomy or a second uterine fibroid embolizaiton if symptoms persist. Knowing that hysterectomy used to be the only alternative for symptomatic fibroids, hysterectomy can now be used as a last resort. Although hysterectomy may have a higher complication rate than uterine fibroid embolization, fibroid embolization prior to hysterectomy will decrease the likelihood of significant blood loss during the unlikely event of a subsequent hysterectomy.
There are some patients that may be better served by hysterectomy although their fibroids seem to be amenable to embolization. This subset of women includes those who have a strong family history of uterine cancer, or who suspect themselves to have symptoms of uterine cancer including bleeding between periods rather than heavy menstrual bleeding alone. An endometrial biopsy or D&C performed by a gynecologist may be needed in the assessment of these women.
Not Just Jehovahs Witnesses want to avoid Blood Transfusion.
Many of the patients who have been referred to me in Philadelphia already are severely symptomatic. They have extremely low hemoglobin levels and have been treated extensively with hormones and suffer severe breakthrough bleeding and some are near catastrophe, including having blood transfusions prior to fibroid embolization. Our goal is to avoid blood transfusions whenever possible. Please note that fibroid embolization may be completed safely even in women with very low Hemoglobin/Hematocrit levels. These levels begin to rise immediately after fibroid embolization, hopefully avoiding blood transfusion.

The Intelligent Alternative to Hysterectomy.™
For the majority of the women who suffer from symptomatic fibroids, uterine fibroid embolization has been documented to be a safe and effective alternative to hysterectomy and is now available to the women of Philadelphia and the surrounding areas. Please let us know if we can help you.
THE INTELLIGENT ALTERNATIVE TO HYSTERECTOMY ™